C.I.S.E. Award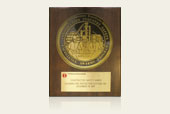 Safetyman Award
This award is in recognition of safety management excellence, highlighted by management commitment, a quality written safety program, OSHA incidence rates consistently below established national levels.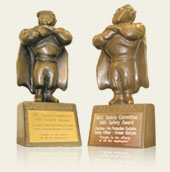 Safety
Kaufman Fire Protection Systems, Inc., strives for a productive and safe working environment and has a comprehensive safety program.
All management, shop, and field personnel take an active role in the safety program. Due to our commitment to our safety program, recognition has come from local, state and national levels.
Safety Awards
1995 and 1997 - The first Rio Grande Chapter of Associated Builders and Contractors Safety Man Award.
1995 and 1996 - The National Associated Builders and Contractors Finals of the Business Roundtable Construction Industry Safety Excellence Awards Program.
1995, 1998 and 2000 - The National Associated Builders and Contractors S.T.E.P. (Safety Training and Evaluation Process) Award for Gold Level of Achievement for development of a quality safety program.
1997 - The National Business Roundtable's most prestigious award the CISE Award (Construction Industry Safety Excellence).
Safety Counselling Inc.
www.safetycounselling.com
Safety Counselling Inc. is a safety consulting firm, contracted to ensure that KFPS's safety policies and procedures are among the best in the business. Safety Counseling Inc. has been in business since 1973 and has over 175 years of combined experience in all safety fields. In addition to helping write and amend our Safety Policy and Procedures Manual, Safety Counseling Inc. assists in our safety program through weekly toolbox talks and job site visits, monthly safety meetings and training, CPR/First Aid training, and an annual review of our safety program.